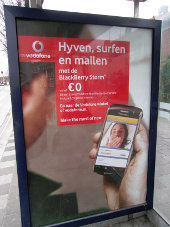 Popular Dutch social network Hyves will stop operations on 2 December, Parool reported last month.
Although the paper doesn't mention why the site is shutting down, it's likely because Hyves was haemorrhaging visitors to Facebook, which offers a similar experience but to an international audience. The international ambitions of Hyves can presumably best be summed up by its name, which is the English word (spelled slightly different) for a skin rash. Marketing Facts reported in March 2012 that Hyves led Facebook by almost 3 million unique Dutch visitors in December 2010. Twelve months later that number was reversed. (The Netherlands has approximately 16 million inhabitants, 10 million of whom were Hyves members at the site's peak .)
Starting today Hyves allows users to download the photos, videos, messages and so on that they left on the site. The download window is only two weeks. Parool further reports that the Hyves servers currently hold over 1 petabyte in data. Although Hyves will stop as a general social network, it will try and continue as a gaming website.
Update 17 November 2013: Volkskrant reports that Dutch people in their late teens are abandoning Facebook in droves. Of those aged 16 – 19 who had a Facebook account last year, 52% had abandoned their account by this year. On the whole Facebook is still growing though. Volkskrant suspects young people simply do not want to share a network with older relatives.
(Photo of a bus stop ad by Patrick Nielsen Hayden showing how in 2009 Hyves was considered the prime application of a smart phone, some rights reserved)