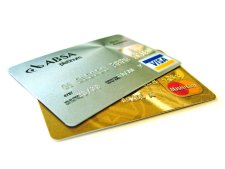 The Dutch never really warmed to the idea of the credit card, and generally consider it unsafe for online transactions. The new kid on the block, the iDeal system, is rapidly gaining ground, according to the organisation controlling several popular payment methods for the major Dutch banks, Currence, who also run the iDeal system (press release in Dutch). It works like this: at the check-out of an online store, a customer clicks on the iDeal logo, and gets the electronic banking interface of their own bank. In this interface, the required sum is transfered immediately to the shop keeper.
iDeal has shot up from being used for 1% of all online payments in its first year, 2005, to 15% in 2006. Paying by credit card has dropped in popularity from 19% to 13%. Of all Dutch online shoppers, 73% consider iDeal to be a safe system, whereas only 32% think the same of credit cards.
According to ZDnet (Dutch), using acceptgiros (deposit transfer cards) and a bank's online banking system directly are the most popular forms of payment.
(Image source: Lotus Head.)