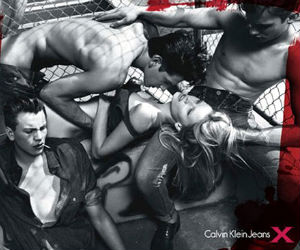 Major Australian cities have decided to ban some Calvin Klein jeans adverts because they are "suggestive of violence and rape". The sexy pic, shot by British based fashion photographers Mert Alas and Marcus Piggott, show Dutch model Lara Stone "fooling around with a group of half naked guys in what looks like a public basketball court."
No, no wait. Stop. That's not what I saw. I saw a painfully orchestrated yet very unplausible photo of a girl that's getting way too much attention due to her choice of (and lack of) jeans. The guy on the left is bored with the entire deal, too busy looking like James Dean, the one holding her head is not pinning her down or anything and the guy giving Lara some attention looks almost too young and inexperienced to be doing so. Granted, it looks like the light version of a gang bang where everybody looks nice and friendly, and it could be provocative to adults if you were living in a cave and missed out on Madonna's book 'Sex' and oh so many other things. If it was a Jean Paul Gaultier perfume advert with just men, would people have said anything? Or all women? Or women tearing up some young guy's shirt? Hm?
Granted, young children won't get this and it is risqué, but this kind of advertising is not going away any time soon. Selling jeans hasn't been about actually seeing jeans for about 15 years. If you want to protect your kids, educate them, methinks.
(Link: dutchdailynews)
Tags: advertising, Australia, jeans, Lara Stone