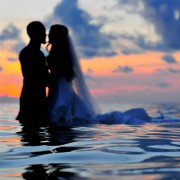 Members of dating website Parship have voted the Brabant accent the sexiest, the site reported last month.
The Southern accents (Noord-Brabant and Limburg) are both characterized by 'soft' gs (both voiced and unvoiced) that are produced by pronouncing the g more forward in the mouth.
The accents from Limburg and Amsterdam ended second and third in the poll, with men preferring the former and women the latter. The Amsterdam accent is characterized amongst other by a tongue tip r and the devoicing of initial consonants: "de zon in the zee zien zakken" (to see the sun sink into the sea) becomes "de son in de see sien sakke".
A sample of both the soft and the hard g can be heard in the suddenly prescient and salacious 2010 carnival hit song by Jos van Oss (Oss being a place in Brabant) Ik heb een zachte G, maar ook een harde L (I have a soft G, but also a hard D), in which the male singer sports a Southern G and the female singers have a hard G.
(Photo by Ali Nishan, some rights reserved)