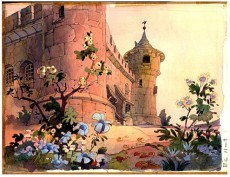 This year is the 100th birthday of Marten Toonder, the godfather of the Dutch comic, and many events and publications mark the occasion, such as De Toonder Animatiefilms, a comprehensive history of the Toonder Studios' animations.
The book by Jan-Willem de Vries contains over 500 illustrations and includes a DVD with many of the films.
Holly Moors says about the book:
The DVD contains quite a number of commercial animations […], but the films [that the studio made for itself] are by far the most interesting. Among them De Gouden Vis [The Golden Fish—Branko], a beautiful, quiet animation with wonderful Oriental looking artwork, magnificently subtle colouring and a rather vague, Oriental story.

[…]

The entire DVD turns out to be a treasure trove of such surprises.
Toonder (1912 – 2005) was mostly known for his comics though, and his flagship strip was the Tom Puss/Oliver B. Bumble series.
After Belgian comics creator Hergé (Tintin) had introduced text balloons for speech, most European comics artists adopted that style. Toonder however stuck to comics that looked more like illustrated texts, which allowed him to fully explore his literary style. That style, combined with the use of fables to parody Dutch society must have made him hard to translate, yet he was one of the very few Dutch comics authors who saw success abroad.
Several of his neologisms are used to this day in the Dutch language:
Minkukel: an inferior person.
Zielknijper: psychiatrist, literally 'soul pincher' (i.e. analogous to 'head shrinker').
Grootgrutter: supermarket, literally 'large-scale grocery'.
Denkraam: something like intellect, but also frame of reference and paradigm, literally 'thought window'.
A lot of writers who later became famous in their right worked for Toonder Studios, such as Lo Hartog van Banda, Paul Biegel, Thé Tjong King, Piet Wijn, Dick Matena and Jan Kruis,
(Illustration: still from The Dragon That Wasn't, the first Dutch feature animation film.)