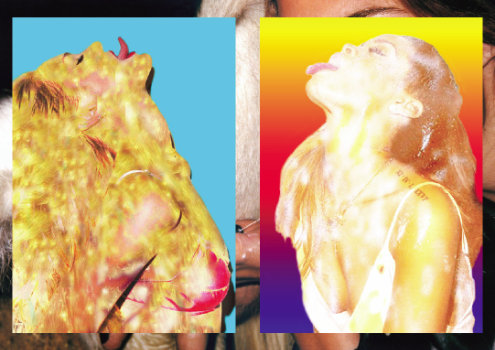 Céline Manz is a Zürich-born, Amsterdam-based photographer who graduated from the Gerrit Rietveld Academy in 2013. Earlier this year she published Hungry for Love, a book in which she cuts up titillating images to highlight their innate ridiculous nature. Sexy becomes silly really fast.
At least, that's what I thought. New Dawn is not as sure about Manz's intentions: "The reader has no choice but to remain unsatisfied. The result looks like Terry Richardson's visual language (he gets a 'thank you' note in the book), but no clear stock can be made from this fleshy stew. Satisfying or lust inducing?"
Judge for yourself (note: decidedly NSFW). You can buy a print copy or download a PDF version of the book at Manz's website.
Terry Richardson is an American photographer known for his amateur aesthetic, mature subject matter and controversial shoots. In 2001 he worked on an advertising campaign for Sisley also called Hungry for Love that Manz appears to have used as the basis for her book.
Manz is not the first Swiss-born, Amsterdam-based photographer we're looking at this month.