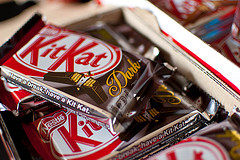 An advertising campaign that builds on Kit Kat's slogan 'Have a break, have a Kit Kat' features a place to sit and have a break that is WIFI free ('Free no WIFI zone'). That's right, no WIFI instead of the usual free WIFI, although 'Free no WIFI zone' sounds weird, evoking a 'yes, we have no bananas' grammar feel to it.
The red bench is right downtown Amsterdam on the Max Euweplein (Max Euwe Square), named after Dutch chess Grandmaster, Max Euwe. It's also surrounded by a casino, a comedy club and more venues that cater to non-Dutch speaking tourists.
What is cool about this street furniture advertising campaign is that it actually blocks WIFI signals within a 5-metre radius. I will test it next time I am downtown and report back.
UPDATE On Jan 31 I went to see if it was there and it had gone.
(Link: www.amsterdamadblog.com, Photo of Kit kat by Jexweber.fotos, some rights reserved)