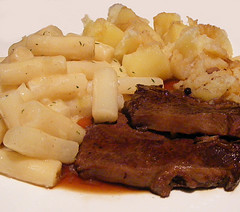 It's not the first time a restaurant decides to send back a Michelin star, but this time a two-starred restaurant has decided to do it.
Top chef Ron Blaauw has decided to toss aside his two Michelin stars from his eponymous Amsterdam establishment on the Sophialaan and offer simpler dishes at normal prices. "Sixteen appetizers, four kinds of bread, a water menu, etc., there just no need for all that anymore."
The restaurant will be renamed Ron's Gastrobar with maximum prices of 15 euro for main courses. If that's not trendsetting, I don't know what is. Oh and nom nom nom.
(Link: www.at5, Photo by FotoosVanRobin, some rights reserved)