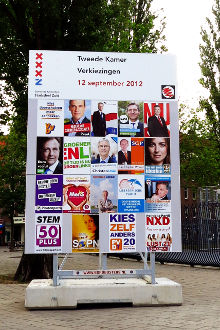 Preferential voting in last month's municipal elections in the Netherlands has caused a drastic increase of female representatives, newspaper Trouw reported two weeks ago.
The campaign Stem op een Vrouw (vote for a woman) encouraged citizens to vote tactically by voting for a woman the polls suggested would just miss out on being elected. The result was an increase of 20% women in the Dutch municipal councils.
Municipal councils in the Netherlands are elected once every four years. A council sets the policy for its municipality and supervises the municipality's executive board. A party receives its portion of the available seats based on the percentage of votes they win. The council seats are distributed among the candidates that make up the top of the party list, but if a lower ranked candidate gets a lot of votes, they bump the lowest candidate of the primary selection from her or, as the case may be, his seat.
In the previous four years, a record-breaking 28% of council members were women, but this year the new record was set at 34%. Citizens gave women a preferential vote across all party lines, although the effect was most noticeable for candidates of D66 (Democrats), Groen Links (Greens) and SP (Socialists).
Most resistant to the idea of female council members turned out to be the political parties and the candidates themselves. In 334 of the 335 municipalities, men dominated the party list, NOS reported in March. In the one town where there was an equal amount of male and female candidates, Heemstede, the male party leaders still outnumbered the female party leaders 2:1.
Both PvdA (Labour) and SP had their candidates sign a waiver, stating they would give up their seat if they got in on preferential votes. Several female Socialists gave up their council seats. The waiver has no legal force according to John Bijl of the Perikles institute: "You swear loyalty to the law and the constitution, not to your political party." In Woerden, local party Inwonersbelangen (Citizens' Interests) threw Lia Arentshorst out of the party after she refused to give up her seat.
The campaign Vote for a Woman was founded by Devika Partiman after a campaign with the same name from the 1990s in Surinam. The campaign also ran during the previous parliamentary elections, where the effect was more subdued, presumably due to the fact that the representation of women in parliament has historically been greater already.