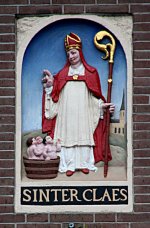 If you were uncertain on whether to put the carrot for the horse in the left or the right shoe, whether to start singing Zie ginds komt de stoomboot or Sinterklaasje Bonne Bonne Bonne first, or whether it is allowed to make veiled references to the thing you had with your best friend's wife in the poem you wrote for his surprise, fear not, NEN to the rescue! Last year, the Dutch Standards Institute (NEN) published its standards for the celebration of Sinterklaas (PDF, mostly Dutch) so that now we know how all participants should behave during the celebration.
Oh, that poem thing? The rules are defined in a separate document, NTA 0712.
Link: Sargasso. Photo by Aloxe, some rights reserved.