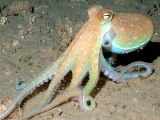 In 2010 a German octopus called Paul made worldwide headlines by correctly 'predicting' the results of South African football World Cup matches.
A petting zoo called De Pijp in Amsterdam (after the neighbourhood) is now trying to ride Paul's famous name by organizing an 'eviction show' called Holland's Next Octopus Paul in which twelve animals compete for the honour of being the most prescient.
The format is similar to a lot of reality shows. Animals have to predict the outcomes of a 2012 European Football Championship match by eating from a container with the flag of a competing country. The animal that gets it wrong, gets the axe—not literally, we hope. Parool reports that the contestants include a sheep, a horse, a donkey, a mouse, a cat, a guinea pig and a chicken.
The first predictions, for the Netherlands v. Denmark match, are now in:
(Photo of an octopus by NOAA, which means it is in the public domain. Video: Youtube / 'octopus paul')