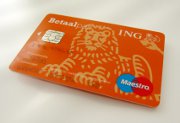 On 1 March 2011 the Dutch started a 9-month process in which bank cards with magnetic strips are replaced by chip-based ones. Paying in stores with a bank withdrawal is the most popular card based payment method. Cash is still good for 66% of all payments in brick and mortar stores, but paying with bank cards makes up almost all the rest of the payments, according the 2010 annual report of the Dutch National Bank.
The new chip-based cards must by stuck into a device rather than swiped through it, and this leads to problems with forgetful customers leaving their cards at the till, according to De Pers. The newspaper quotes Hans de Jong of the Esso van Hasselt gas station in the North of Amsterdam: "People keep forgetting their cards. I easily end up with ten to fifteen of them. I tend to wait a week for our customers to collect their cards, after which I will cut them in half."
The chip based card is being introduced because it is allegedly safer than the swipe card.
Tags: money, payment methods, shopping