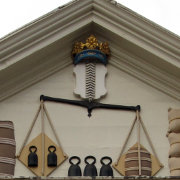 Z24 reports that the first 'physical stores', as they call it, have started to accept the virtual currency Bitcoin.
Expat supermarket Taste of Home in Haarlem and bar De Waag in Delft (not to be confused with the bar and high tech society of the same name in Amsterdam) both accept the currency. Currently about five people pay their bar tabs at De Waag using Bitcoins.
Irishman Pail Desgrippes, co-owner of Taste of Home, has an IT background. One of the reasons for considering Bitcoin even before he and his partner started their supermarket was the publicity it would generate. "But I also like the idea of being independent from banks. We also get to save on transaction costs and offer our customers an extra payment option."
Currently the number of Dutch brick and mortar stores that accept Bitcoins seems to be outnumbered by the amount of websites that report on the number of Dutch organisations that accept Bitcoins. At the moment Wat Is Bitcoin? has the longest list.
See also: Bitcoin income shall be taxed, Dijsselbloem says.
(Photo of a detail of De Waag in Delft by M.M.Minderhoud, some rights reserved)