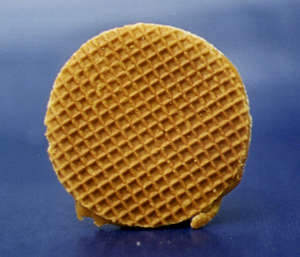 An American passenger on United Airlines was upset when their usual stroopwafel was replaced by a 'maple wafer cookie', which I bet has 'pole syrup' instead of any kind of actual maple syrup in it. Québec, which produces 75% of the world's maple syrup, colloquially refers to fake maple syrup as 'pole syrup' – maple-flavoured corn syrup, fictitiously coming from telephone poles rather than sugar maple trees.
Jeroen Daelmans of the Daelmans in Nieuwkuijk, Noord-Brabant responded in the media with surprise about United pulling their stroopwafels as well as being stunned by the public's response to being denied his company's product. He hopes United will listen to their passengers and get back to serving the beloved treat.
We know all too well here in the Netherlands that you don't mess with stroopwafels, and hopefully international businesses will get the message as well.
(Link: omroepbrabant.nl)
Tags: protest, stroopwafels, United