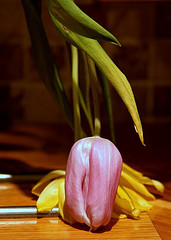 Second-year psychology students at the Radboud Universiteit in Nijmegen have started a petition to be given courses in Dutch as promised when they registered for university.
The university decided to merge English and Dutch courses together and without any proper warning, students showed up to classes that were given in English 'Dunglish', aka in Dutch 'steenkolenengels'.
Not only were the students promised Dutch classes, but their exams will be in Dutch, so having classes in poor English is making life worse for them and their Dutch-speaking teachers who, according to many, are not good enough to teach in English.
Although discussions are ongoing, the university has decided to blame the students for their lack of English. The university admitted to "not communicating properly beforehand about the language switch", which is Dutch for 'sorry not sorry' and then proceeded to say that students use textbooks in English, so they shouldn't really be complaining.
Well, they're complaining because they feel they've been lied to and although everyone understands you want to cater to the British and others paying money to study for cheap in the Netherlands, you're screwing your own people who also pay good money to study. Somehow, it makes sense for Dutch teachers to teach mainly Dutch students in Dutch in their own country!
Dutch psychologists will probably have Dutch clients, and Dutch students should have a say in their own education. There's no way the university can guarantee a decent level of English in this case, bringing the entire quality of education down and cowardly resorting to blaming students in order to push their Dunglish agenda through purely to make more money off the non-Dutch students, or so it seems.
(Link: gelderlander.nl, Photo of wilted tulip by Graham Keen, some rights reserved)
Tags: Dutch, Nijmegen, psychology, Radboud Universiteit