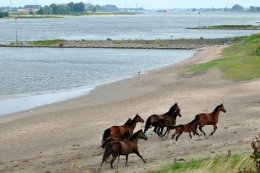 'Room for the River' is a Dutch state project that intends to widen the floodplains of the major rivers.
The project does something that is quite rare for the Dutch, it gives land back to the water. In 1993 and 1995 we had major river floods, the latter even leading to the evacuation of 250,000 people. Geographically, the Netherlands is a river delta, and the Dutch have always had to live with river floods. However, today the population pressure has made the consequences of floods much more expensive.
As the project website says: "The rivers are wedged between increasingly higher dikes behind which more and more people live. At the same time, the land behind the dikes has sunk. It is also raining more often and harder, causing rivers to swell. Water levels are rising and so is the chance of floods with a large impact on people, animals, infrastructure and the economy."
The New York Times has visited one of those projects and uses it for an opinion piece on how big government is good.
Short read: The Ruimte voor de Rivier site has Nine easy infographics on how to give the river room.
(Photo: Waal beach by Rijkswaterstaat / Ruimte voor de Rivier / Martin van Lokven)