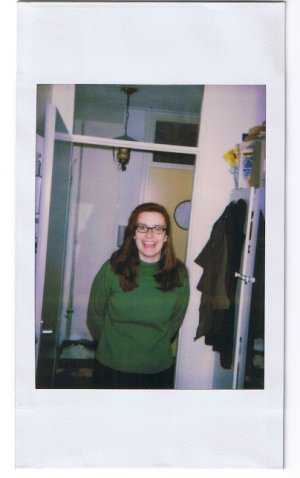 Although tech blog Techcrunch ran this story this summer, it seems they weren't really interested in the people behind the site who are — you know it — Dutch. At the risk of being told by friends that I'm playing 'Zoek de Nederlander' ("Find the Dutch person"), a friend, Maurice Sikkink told me about one of the many sites he has, including Rollip.
Rollip is a site that lets you turn your ordinary pictures into those slightly discoloured but oh so lovable Polaroid pictures. Maurice tells me that it is almost impossible to properly reproduce these 'fake' Polaroids on real film, making the digital version much more desirable. People can sign up for Rollip pro and have their pictures processed with many kinds of filters. I can imagine that for a travel magazine or a 1970s article on someone's family that a Polaroid-like picture would definitely jazz things up.
Back in the 1970s my parents had a Polaroid land camera and I still have a lot of Polaroid pics of myself, including this one, ironically taken by co-blogger Branko back in 2000. Another Polaroid I have, which I will publish if you insist, is of me and — I kid you not — Mormon poster child singer Donny Osmond.