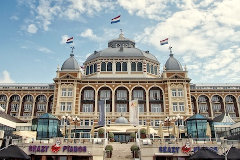 The Kurhaus Hotel in Scheveningen near The Hague is bankrupt, Omroep West writes.
The hotel is owned by seven anonymous private investors who bought it in 2004 for 46 million euro and is run by the German Steigenberger Hotel Group. At the time the purchase was supervised by Willem Endstra, who was accused of being banker to the underworld and who was murdered shortly after. Steigenberger has denied that there are financial problems and has declared that business will go on as usual, according to Misset Horeca.
Meanwhile the nearby pleasure pier, another icon of seaside resort Scheveningen, is also heading towards bankruptcy. The curator has decided to put the pier up for auction. It is currently owned by known tax evaders Van der Valk Hotels who bought it for 1 euro in 1991 of insurer Nationale Nederlanden who wanted to get rid of it because of the high maintenance costs, NRC writes.
The origin of Scheveningen is hidden in the mists of time, but towns with names ending in -inge originate from the 10th and 11th century according to Wikipedia. As the nearby The Hague turned from the hunting lodge of the counts of Holland to the seat of the government of the Republic of the Seven United Netherlands, the fishing community of Scheveningen grew. In 1665 the two towns were connected by a paved road and from 1800 onwards Scheveningen developed into a seaside resort with hotels and villas being built to the northeast of the harbour.
In 1884 the Kurhaus was built, a hotel which doubled as a spa. The Kurhaus was connected to the pier via a bridge. (In World War II the original pier burned down—a new pier was built a bit further up North in 1959.)
According to history blog Geschiedenismeisjes, Kurhaus was still an icon of tremendous luxury at the start of the 20th century. During World War I, in which the Netherlands managed to stay neutral, the hotel was the location of a culture clash between new and old money. A group of people who had gotten rich during the war, the so-called 'oorlogswinstmakers' (war profiteers) flaunted their wealth in Scheveningen. And in 1919 a labour law was passed that made leisure time for workers obligatory—the hours that a person should work per day were limited to 8 and the Sunday would be a day off. This brought spending time at the beach suddenly within the reach of the working classes.
(Photo by MichielJelijs, some rights reserved)