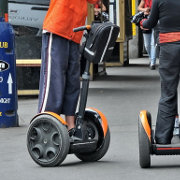 A 45-year-old man from Ootmarsum in the province of Twente lost his driving license yesterday after getting caught Segwaying under the influence.
According to the local police a breathalyser test showed that the man had a blood alcohol level of 995 µg/l, which is far above the legal limit. Segways are considered a special type of moped in the Netherlands. They aren't allowed to go faster than 25 kilometres per hour and driving them doesn't require a driving license, but the law says that if you get caught operating any type of motor vehicle while under the influence of a certain amount of alcohol, the police may still take your car driving license.
If the man had been caught while riding a bicycle, the police would simply have sent him walking with his driving license still firmly in his wallet. It will be at least 13 days before his license is returned to him, unless the public prosecutor decides the drunk Segway driver is such a menace to society that he must be brought before a judge. In that case, the public prosecutor gets to hold on to the license a little longer.
(Photo by FaceMePls, some rights reserved)