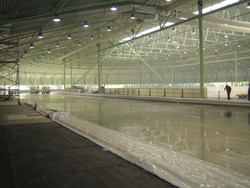 The city of Enschede, known for Grolsch beer and a very unfortunate fireworks explosion a few years back, should soon be better known for a brand new skating rink, built mainly for short and long track skating. When a North American says 'skating rink', hockey and figure skating usually come to mind first, so I had to be explicit, although the rink's website does mention hockey and activities for young and old.
Scheduled to open on 1 October, The Twente IJsbaan is a fully covered, 400-metre-round rink and the second biggest in the country after Thialf in Heerenveen. It has 66 km (!) of pipes under it, as it uses liquid CO2 for cooling. Read more about this feat of engineering (in Dutch).
From 2 October to 5 October, the entrance fee will be a mere EUR 2,50 instead of EUR 5 and the rink will be opened from noon to 8 pm. I've never been to Enschede, maybe it's time to finally visit.
(Link: ijsbaan-twente.com)
Tags: Enschede, skating rink