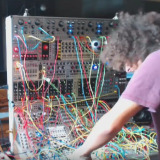 When Colin Benders aka Kyteman gets home, he kicks off his shoes (or so I imagine) and turns on his impressive looking Eurorack modular synthesizer for some jams, which he films and the best of which he puts on YouTube. As Metafilter says, just let it run.
Kyteman wrote: "Ever since I came back home I've been pushing out tracks non-stop. Finally got something of a workflow going it seems. Not looking forward to editing it all later but that's another story."
And tonight on his webcast on Twitch.tv he added: "Next stream is probably going to be on Monday, … Monday and Tuesday. […] After that I am going to get back into recording mode. I really have to start pushing out a couple of tracks, because I want to work to an EP release or something like that."
So if you want to see him play live, tune in to Colin Benders' Twitch.tv channel this Monday.
Previously:
(Illustration: crop from the video; video: YouTube / Colin Benders)