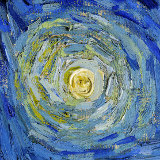 A painting by Vincent van Gogh, 'The Starry Night', has been replicated by a Taiwanese company using four million colourful plastic bottles with the goal of promoting recycling.
Taking up 53 hectares of the Starry Paradise park on the outskirts of Keelung City, the installation was opened to the public early this year to mark the 125th anniversary of van Gogh's death.
"We were thinking of combining the idea of environmental protection with PET bottles and this landscape to create a piece of art, so that everyone can get to know another side of recycling," explained Aisin Yeh, of the Unison Developing Co. Ltd, which undertook the project.
The project cost USD 2.6 mln and took four months to complete, according to the video. Have a look:
(Link: www.reuters.com)