Philips getting out of the TV business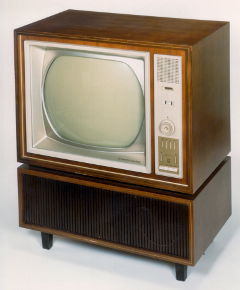 Dutch electronics giant Philips has sold its television division to TPV Technology from Taiwan.
The company from Eindhoven is 30% owner of TPV, and will license its name to the Taiwanese for five years, with an option of a five year extension. The new TPV owned TV manufacturer will be called TP Vision, and will headquarter in Amsterdam, Bright reports.
In the last quarter Philips' television division lost 272 million euro.
(Photo of the first Philips colour TV from 1964 by Philips, used with permission)
1 Comment »
[…] Philips home entertainment division excludes the television division, which Philips already sold to TPV from Taiwan in […]

Pingback by 24 oranges » Philips sells home entertainment division to Gibson — April 28, 2014 @ 10:10 am