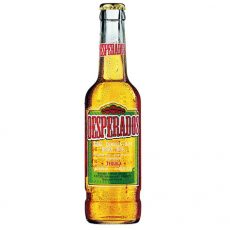 Originally created by a French brewery and now brewed in Croatia for Heineken, Desperados beer sells in 85 international markets, but no longer in the United States since about 2015.
Desperados, which has been on sale for two decades, is now a problem for the Mexican authorities who claim that Heineken is messing with the rules on designation of origin. To put it plainly, there is no tequila in this tequila-flavoured beer according to Ramón González, Director of the CRT (Tequila Regulatory Council).
"Either they take the word 'tequila' off it, or they put some tequila in." If they refuse, "we'll have no choice but to fight this [in court]", says González. The CRT reigns supreme over the use of tequila much like the French authorities do with champagne. And it was the cost of suing Heineken apparently that had stop them from threatening them until now.
A Heineken spokesman claims that Desperados is a beer flavoured with tequila, meaning that there is tequila in the beer. However, the CRT had the beer tested in Madrid and was told that there's no tequila at all in the beer, which would mean it's false advertising. The product is said to have trace amounts of tequila and is technically classified as a malt beverage, which means it's about the presence or absence of hops.
Mexico and the Netherlands have had a tumultuous relationship on this blog, including Dutch and Mexicans girls duelling in videos and King Willem-Alexander using rude words in a speech)
(Links: ft.com, adage.com, wikipedia, Photo of Desperados beer by DrinkUpEssex)