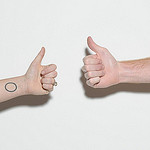 Yesterday artists Robbert Kamphuis and Laurens van der Zee unveiled their 'compliment machine', placed on the side of a downtown building in Wageningen, Gelderland.
Unsuspecting passers-by are given a compliment, randomly selected from a collection of 751 compliments. While some 600 of them are in Dutch, some 50 are in English and about 10 others in eleven other languages a piece to emphasise the international vibe of the city and its body of foreign students.
This art project celebrates 750 years of city rights for Wageningen. If you click on the above-mentioned link to see the machine, it looks like a wooden icon version of Facebook's thumb's up.
(Link: proefwageningen.nl, Photo Photo of thumb's up by cait loper's photography, some rights reserved)