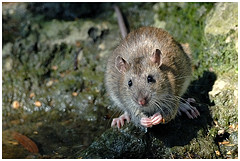 From the makers of 'De Nieuwe Wildernis' ('The New Wilderness'), a documentary about wildlife in the Oostvaardersplassen ('the lakes of those who sailed to the East') that got 400,000 people to the cinema in just a month, comes 'De Wilde Stad' ('The Wild City'), with all the amazing wildlife you can find in Amsterdam.
The film is 'narrated' by a cat called Abatutu that runs into many animals, including those crayfish we keep telling you about.
From seagulls that steal your fries to the grey mice found everywhere in Amsterdam, the movie's trailer was released this week and gives us a glimpse of what's to come on 1st March 2018, a later release date than originally planned, when Dutch cinemas will be showing the film. Music in the trailer by Dutch band The Kik, with 'Ik zie je in stad'.
(Link: parool.nl, Photo of Brown rat by Jean-Jacques Boujot, some rights reserved)