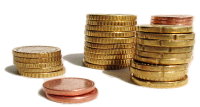 Celebrity laywer Oscar Hammerstein must have been out of the spotlight for too long. Volkskrant reports that even though the foundation Vrienden van de Gay Krant (Friends of de Gay Krant, a gay paper) claims not to have money to spend on legal counsel, they have managed to get Hammerstein (400 euro per hour) to seize two of Krol's houses for them.
The foundation is being besieged by the Dutch Ministry of Education, which wants to get subsidies back that were earmarked for an online meeting place for teenage gays, but which Krol allegedly used to fund his other enterprises during his stint as foundation chairman. In turn the foundation felt Krol should pay their debt as it was he who got them into this mess.
One of the two houses is Krol's villa in Eindhoven which he wants to sell for 860,000 euro, which includes a bar, a sauna, a hair salon and an obscene amount of marble. Financial gossip mag Quote has photos. The ministry's bill is apparently only for 206,833 euro.
Krol's party 50PLUS, who run on a platform of milking the young (read: poor) to give to the elderly (read: not so poor), have accused Volkskrant and AD of 'damaging' Krol. Considering that the man who allegedly robbed his employees of their pension funds has not been convicted, nor even prosecuted, they may have a point. On the other hand, the return of Krol in parliament to replace a sick colleague has led to an increase of projected votes of 50% in the polls (read: 1 seat) according to Maurice de Hond.
Tags: 50PLUS, Dutch celebrities, Henk Krol, money, pensioners, pensions, villas