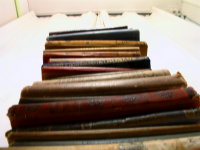 The VU Amsterdam University only has six students studying Dutch this study year, just one more than last year, which has academics worried. The Bachelor's study Literature and Society is under a lot of pressure to peddle their wares, but people aren't buying.
According to Professor Johan Koppenol, Professor of Old Dutch Literature, Dutch is one of the least popular subjects already at secondary school – here I thought it was French and/or German as a second language. As well, Koppenol claims that many secondary students believe that studying Dutch at higher levels is only good if you want to become a teacher, so there's an image problem as well.
The Literature and Society Bachelor's degree has in fact never attracted more than 10 students, explains Diederik Oostdijk, head of Language, Literature and Communication, as well as Professor of English at the VU. Two years ago the Bachelor was broadened in the hopes of attracting more students, but that's not been successful. However, the English-language side of things gets some 50 students a year, most of which come from abroad.
Back in my days at university in Montreal, Canada in the 1990s, language studies from English to French (typically popular) to German and Russian (that is what I did, the least populated of them all), there was an academic appreciation for studying language and literature, but it was considered a fairly useless study unless combined with some more solid. I remember the Russian faculty head who also taught English literature told me that 80% of his English Studies students couldn't find a proper job or ended up on welfare after their studies, with a few thousand dollars in debt as well. And I can tell you that the prospects for us Russian and Slavic Studies students was also shaky unless combined with something more solid. The idea of working as a transcriber of Russian mafia women's phone conversations, which was more about recipes and less about possible coups, didn't sell very well, either.
(Link: advalvas.vu.nl)