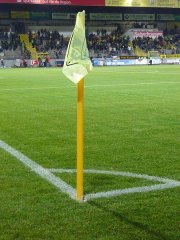 After an exciting win 4-2 for the 'Orange Lionesses' against Denmark yesterday in Enschede, the Dutch women's football team have won the UEFA Women's European Championship for the first time.
And while their Amsterdam counterparts had to celebrate their national victory with a small party in their locker room, the Lionesses had some 22,000 people show up in Utrecht to welcome and applaud them. It's about time this country took notice of how much work goes into women's sport. Since the Dutch enjoy putting a price tag on everything, the argument of being able to win with much lesser means and 'less ego' is appealing even to the sceptics.
Besides having watched this game, I went to my first ever football game recently as well to watch Russia vs. Germany (Germany won 2-0, Russia made too many mistakes). I had a great time and didn't feel at any moment that I was watching a lesser sport or that I couldn't cheer for Russia because German fans were there, too. Everybody was having a great time despite the lousy weather. It was exactly what live football should be: fun for everyone.
Here's a glimpse of the canal boat with Lionesses on board:
(Photo of flag by Wikimedia user Carolus Ludovicus, some rights reserved)