Ajax women's team petitions for their own party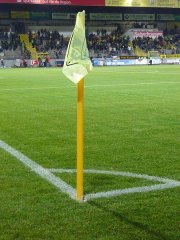 On 24 May 2017, Amsterdam's men's football team Ajax didn't get a party on the Museumplein downtown, as Manchester United took the win 2-0 in the Europa League, and it was business as usual the next day.
However, on 26 May 2017, Ajax's women's team won the Dutch championship (Eredivisie) by winning against Eindhoven's PSV. And even though they've won the national title and the cup, they don't get anything because, well, sexism.
Ajax Women have decided enough with this unequal nonsense and have started a petition to get their own public honouring when then they win major titles instead of having a small party in their locker room. And they're fine with having it somewhere smaller.
Here are some game highlights:
(Links: parool.nl, english.ajax.nl, Photo by Wikimedia user Carolus Ludovicus, some rights reserved)
2 Comments »
[…] women's Ajax team aren't even celebrated when they win big, the Dutch women's national team gets a roaring lioness on their new uniforms, which matches […]

Pingback by 24 oranges » Dutch women's football kit gets lioness — July 13, 2017 @ 3:55 pm

[…] while their Amsterdam counterparts had to celebrate their national victory with a small party in their locker room, the Lionesses had some 22,000 people show up in Utrecht to welcome and applaud them. It's […]

Pingback by 24 oranges » Dutch women's football team European champions — August 7, 2017 @ 9:57 pm