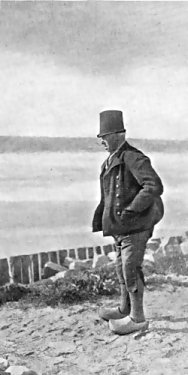 I decided to make another Nederlandse Project Gutenberg Reader, containing the Dutch books that were released in the past month at the internet library. Once again you can find it at Brewster Kahle's excellent Internet Archive.
Since the past month was a bit quiet with regards to new releases, I decided to add a couple golden oldies. The new releases were Jacob Cats' Spaens Heydinnie and Shakespeare's Twee edellieden van Verona. Cats was a moralistic writer from the Dutch Golden Age. Spaens Heydinnie (Spaans heidinnetje, Spanish gypsy) is a reworking of Cervantes' La Gitanilla, in which an infant girl of noble birth is kidnapped and raised by gypsies. The third release last month was a lecture held in 1840 for the Frisian Association, which I find wholly uninteresting, but I am not going to be all judgmental about your kinks.
I added two extracts from older works. The first is a travel account of the Netherlands, Door Holland met pen en camera, by the French journalist and photographer Lud. Georges Hamön. Let me translate a bit for you:
One has to keep in mind though that Holland is a desperately flat and monotonous region, that it does not spark any fierce emotion, nor does it lead to excited enthusiasm or even quiet inner delight. Holland is the land of serenity, where one submerges in the calmest comfort.
The opposite of calm comfort is Herman Heijermans' Diamantstad (Diamond City), a novel about and an indictment of the poor living conditions of the inhabitants of the Jewish quarter in Amsterdam around the turn of the century. Earlier I sort of translated the fragment I quote in the reader over here.
Photo of Father Kick in quiet contemplation by Lud. Georges Hamön. See also the first Dutch Project Gutenberg Reader.
Tags: Amsterdam, Herman Heijermans, Jacob Cats, Project Gutenberg, Spain, William Shakespeare, Zeeland