Pedal exerciser from the 1990s revisited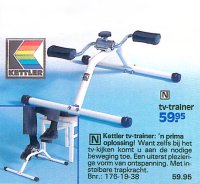 Lifehacker's Gift Guide 2007 for the suave and discerning geek of the noughties acknowledges that the best mods only go with the best bods, so it presents you with a pedaling device called the under-the-desk exerciser (sounds like a Christmas party to me!) to put under your desk or WoW station. But Booklog stands them up with its review of the 1990 summer edition of the Wehkamp mail order catalogue. The "teletrapper" exerciser was sold to an unsophisticated TV dinner crowd even back then, for an even hipper price (in guilders, with about 2 guilders to 1 US dollar).
As one person commented at Lifehacker notes, your desk needs to be higher than waist level, or else you will keep bumping your knees. Of course, if your desk is higher than waist level you're just begging for RSI. One good solution for that is to get up every 40 minutes or so and take a five minute walk around the office. Once you've started doing that, you won't really need a exercising device, though. Choices!
No Comments »
No comments yet.