Longest running ice lolly: the Rocket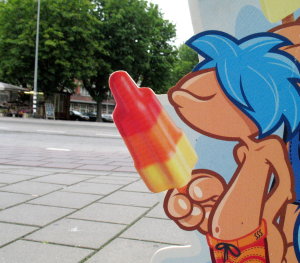 12 April 1961: the Soviet Union launched the first man in space, Yuri Gagarin.
1962: Ola launched a new ice lolly, the Raket (Rocket), and it has never (crash) landed since, making it the longest running model. It's a simple ice lolly, shaped like a rocket, each of the three stages a different(ish) flavour.
The UK factory will produce 35 million Rockets this year, according to an article in daily the Volkskrant (Dutch), presumably hoping each Dutchman will buy two on average. The writer repeats some of the folklore about its popularity that's been woven around this frozen hit: that the quality is high, that it's got three good flavours, and so on. I don't believe in that. I think the main reasons the Rocket has always sold so well is because it barely has any competition, it's cheap, and it's sold almost everywhere.
I remember that when we were kids, during the summers my mother, my brothers and I would walk to my uncle's home in the forest, almost 6 miles from our house. Half-way along our route two old guys had put a refrigerator in their front room from which they sold ice cream to passers-by, and of course we always went for the Rocket because it was right in our price range.