Looking for open source furniture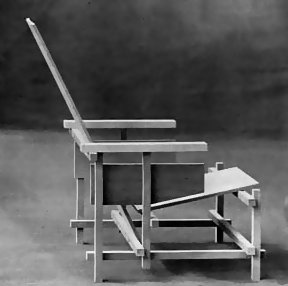 Dear lazyweb. As I am a complete troglodyte in matters of taste and style—something I am obviously trying to mask by using fancy words for "caveman"—and I need to make myself a small cabinet to keep magazines in and drinks on, I find myself looking for "open source" furniture. And finding none. Indeed, the closest I am getting so far are the designs of De Stijl giant Gerrit Rietveld, who apparently created some designs for cheap furniture made out crates during The Crisis of the 1930s.
The Rietveld-Schröderhuis website mentions a brochure made by Rietveld for the Commission Concerning Household Education and Family Leadership called Meubels om zelf te maken (Furniture You Can Make Yourself), created around 1943, 1944, but probably never published. Oddly enough, Paul Ket has low-res scans of this brochure on his website, and Brian C. Keith has even created detailed plans for some of Rietveld's furniture (some of Rietveld's designs are public domain in the US, I don't know about the legality of the rest). If you're too lazy, Rietveld's grandchildren sell some of the designs as construction kits.
But to get back to my question: do any of you know open source furniture that I could use?