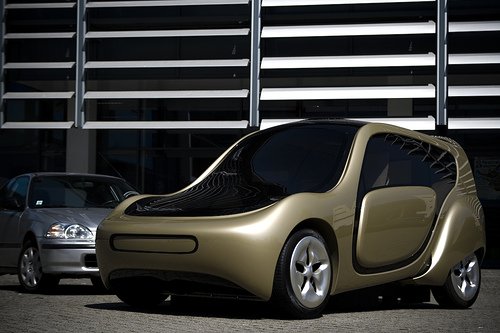 In 2005 the well-known Stichting Natuur en Milieu foundation (Foundation for Nature and Environment) asked students of the three technological universities (Delft, Eindhoven, Twente) to invent the car for the year 2020. This is what they came up with, called the c'mm'n, and the first thing you will notice is that it doesn't fly. The car that is, not or not necessarily the concept.
So, for the car geeks out there, here are the dirty details (Dutch):
Thermoplastic exterior
Aerodynamic shape
Mega-iPhone-like dashboard that lets you play GTA IV while the auto-pilot drives the car
Configurable driver's seat that makes it impossible for other drivers to seek eye contact
Memory foam back seat
Active suspension (makes the car stick to the road better)
Frame that doubles as a shockabsorber
Fully electrical powertrain
Optional diesel range extender (the so-called engineering booth makes it possible for you to compose your own car and calculate the effects of your choices)
They seem to have put more thought into the 'car of the future' bit than into the 'open source' bit—the c'mm'n people still have to decide on the license. I understand that can be a tricky thing but on the other hand even Ford, which isn't in the business of giving away its products, at least opened up its press photography.
(Link: Springwise.com. Source photo: cmmn.org.)