Punching bag emits light the more you hit it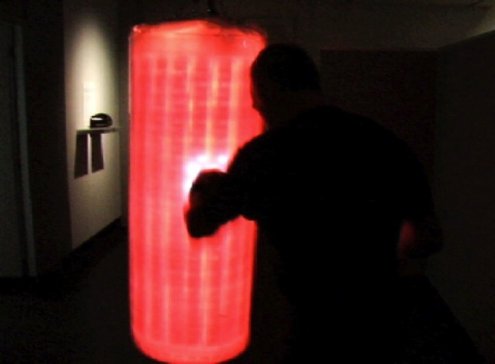 Stella Boess and Stefan Gross came up with this light emitting punching bag called Love Hate Punch and won the Frits Philips Kunstprijs of the Museum Kunstlicht in de Kunst (Artificial Light in Art Museum) in Eindhoven with it. The more you hit the bag, the more light it emits, from deep rage red all the way to soothing bright green.
According to the artists on Gross' website:
We made this piece because we were tired of the fact that interactive lighting is mostly used to elicit soft, flat emotions. We wanted to provoke the rage that sometimes happens to you in real life. And we wanted to put something in the museum that visitors could not just touch, but that actually invites to intensive physical interaction.
You may remember Stefan Gross from his skull-shaped bird houses, named Rebirdy.
Via Trendbeheer (Dutch).