New Brueghel (the Younger) discovered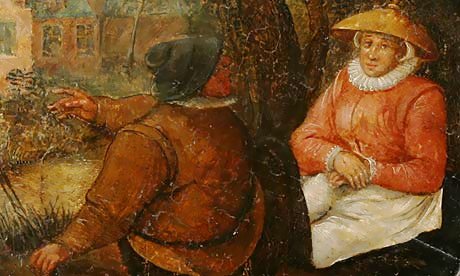 Hot on the heels of a recent discovery of a Frans Hals painting comes the news that a painting of Pieter Brueghel The Younger was unearthed last Sunday in Enschede. Writes the Guardian:
It cost the equivalent of £560 when it was snapped up in a Dutch flea market almost 50 years ago. Now the owner of a small round painting of two peasants has been told she owns an unknown work by the 17th-century Flemish artist Pieter Brueghel the Younger.

The owner took it to experts on the Dutch TV show Between Art and Kitsch, similar to the Antiques Roadshow. They immediately recognised the importance of the signed, 16cm-wide picture of a farmer and his wife resting next to a tree, valuing it at €80,000 to €100,000 (£63,000 to £79,000).
The painting was discovered during a recording of Tussen Kunst en Kitsch at the Rijksmuseum Twenthe in Enschede. The round panel from 1620 depicts a couple of farmers resting near a tree after harvest. Broadcaster AVRO reports that the signature is applied to the stem of the tree and can be read from top to bottom. The show's expert of old paintings, John Hoogsteder, notes that the way the paint has risen because of the shrinking of the wooden makes him sure that it's an original. AVRO will broadcast the episode with the Brueghel discovery sometime in March.
Pieter Brueghel the Younger was a Flemish painter best known for copying his famous father's works.
Photo: detail.