Thaw to set in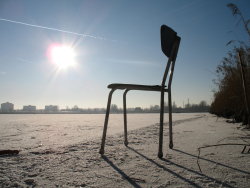 No Elfstedentocht for now. National weather institute KNMI predicts that Monday a period of thaw will set in, with wind coming from the South and from the South West. That also means that the country will not have had an official cold wave, which in the Netherlands is defined as at least five consecutive days of frost of which three dip below -10 degrees.
Somebody who won't be skating for a while anyway is Eimer van Middelkoop: the defense minister broke his wrist during a 30 kilometer skating tour between Bleiswijk and Zevenhuizen, according to Nu.nl (Dutch).
Skating madness held the country in its grip the past weeks, but with the temperature dipping the lowest in the South, the madness spilled over to Belgium. The spokesperson for Vereniging De Friesche Elf Steden, the organizer of the Elfstedentocht, told BN/De Stem (Dutch) that most foreign journalistic attention stems from our Southern neighbours. One fanatic Belgian skater and past participant in the Elfstedentocht, Henri Jaecques, argues in Het Nieuwsblad (Dutch) that Flanders should have its own mythical skate race. "From Sluis to Ieper, 200 kilometer, and perfectly skateable." The first part of that trajectory, a 16 kilometer strip from Sluis to Brugge, was declared officially open to skaters this weekend, according to De Telegraaf (Dutch).
Photo top: a chair in IJburg, Amsterdam awaiting the next novice skater or an ever grimmer fate.
Photo bottom: a frozen Noorderamsterkanaal.
Link: Weer.nl (Dutch).