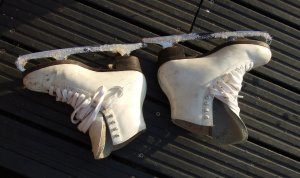 It was bound to happen. People have been frantically trying to score new or second-hand skates for days, but alas, ice skates are totally sold out in the Netherlands, according to skate manufacturer Viking in Almere. On Monday Viking said it sold 75,000 pairs of skates, almost selling everything it had in stock.
The last two weeks were extremely busy days at Viking. Even on Monday, when the thaw set it, they were still selling skates. The buzz is that sometime around Thursday it is going to freeze again and we can all go out skating. I do hope so because I had a lot of fun skating on the canal. The picture above depicts my *ahem* custom-made French Canadian figure skates, which cost a bundle back when I was training at 5:30 am in the morning three times a week. Yes, I fell once already, thank you. However, if you want to buy Viking skates, you'll have to wait until summer when they will make more.
Even finding a place to get my skates sharpened was not easy, but thanks to Twitter, I found a bike shop down the street that sharpens skates.
In the meantime, there's always that huge Indoor skating rink they opened in Enschede.