'Big 4' record for Van der Sar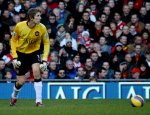 Unlike we originally claimed last week, Manchester United's fourteenth consecutive clean sheet, against Fulham yesterday (3-0) does not mean that their Dutch goalie Edwin van der Sar got the European or even world record. The record he broke, that of Abel Resino of Atlético Madrid, was 'only' that of not conceding a goal for the 'big four' European leagues. According to Algemeen Dagblad (Dutch) those are the leagues of England, Spain, Italy and Germany.
Still awaiting Van der Sar are the European record, held by Danny Verlinden of Club Brugge, which stands at 1,390 minutes, and the world record of Mazaropi, Vasco da Gama, Brazil, at an incredible 1,816 minutes.
Photo by Austin Osuide, some rights reserved.