2000 metre steel wire artwork wins prize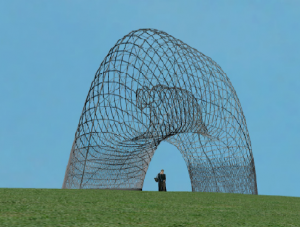 This huge steel artwork, entitled 'Kooi-Met-Geen-Poema-Er-In' ('Cage with no puma in it') by artist Maarten de Reus, won a Dutch Building Award last week. It can be admired in the city of Apeldoorn atop a former garbage dump site. The building contractor of the artwork from Moerkapelle won a National Steel Award in 2008.
The theme of the work, chosen in 2005, refers to puma sightings in the Veluwe woods, which where in fact some sort of big house cat gone wild.
(Link: bright.nl, Photo: Maarten de Reus)
1 Comment »
I think I can see the 'no puma in it'.

Comment by Neil — February 21, 2009 @ 5:33 am