Edwin van der Sar's record goalless run ended last night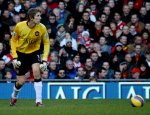 Ten minutes into the game against Newcastle United last night, Manchester United's Dutch goal keeper Edwin van der Sar fumbled a ball and ended his record run of playing league football without conceding a goal, a run which lasted 1,311 minutes. Manchester United still won the match 1-2.
If Van der Sar had managed to keep a clean sheet for the entire match, he would have broken the European record which is held by Belgian goalie Danny Verlinden. Van der Sar still holds the UK professional football record.
In 2007 Manchester United started the football season with a match against Chelsea for the Community Shield. Neither team seemed particularly interested in winning that award, but when the game had to be decided using penalty kicks at least Van der Sar showed up, and started the season with some psychological warfare, as this Youtube clip shows.
At the end of that season, Manchester United again faced Chelsea of London, but this time for the most important award in football, the Champions League. Again it came to penalty kicks, and when Van der Sar stopped John Terry's kick, it won his club the trophy.
The tall keeper wasn't always such a calm and collected stopper. When Italian sports writer and legend Candido Cannavò wrote his column (Italian) on Van der Sar last week, he didn't know it was going to be his last. A heart attack felled him last Sunday, but with his last professional act he had exonerated the man the Italians once called The Corn Cob.
I don't speak Italian, but Algemeen Dagblad writer Renate Verhoofstad translates the end of Cannavò's column as:
Nine years after him leaving Italy you could ask yourself where in Jurassic Park that somewhat strange Van der Sar would be enjoying his old age. Instead the Dutchman is about to become an absolute legend. It's good that life is full of surprises. How beautiful it is to exact revenge with a smile.
Photo by Austin Osuide, some rights reserved.
1 Comment »
[…] similar poll two years ago had football goalie Edwin van der Sar in the lead, but he has retired since […]

Pingback by 24 oranges » Speed skaters more popular than football players in the Netherlands — June 6, 2012 @ 9:40 pm