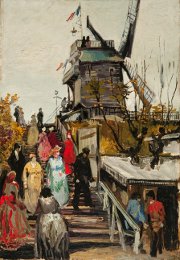 Artworks that are considered to be of national importance will be given protected status in an effort to stop galleries from selling them to foreign or private buyers, according to rules drawn up by the Netherlands Museums Association. Dutch museums will also be given preferred buyer status for works they want to sell, and if a museum wants to sell something, they will have to wait two months to see if another domestic buyer comes forward first before selling to a party from outside the country.
Museum Gouda was criticised for selling The Schoolboys by Marlene Dumas, at Christie's in London back in 2011 without first offering it to other Dutch museums, which highly displeased the Netherlands' best selling contemporary artist.
Dutch museums, often at the centre of controversy, apparently own some 139 contentious artworks as well.
(Link: www.amsterdamherald.com; illustration: the Van Gogh that was 'discovered' in 2011)