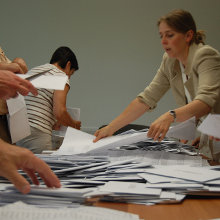 On 21 March, the country is holding municipal elections, and residents who are eligible to vote will have received their personalised voting pass by mail.
Some 44-year-old guy from Waalwijk wanting to make a few euro tried to sell his voting passes on Dutch bidding site Marktplaats. And it's a two for one because in these elections, we're also voting in a referendum on the Intelligence and Security Services Act 2017 (aka 'Sleepwet' in Dutch).
The Public Prosecution Service got wind of the sale and the man was fined 250 euro. The man was pretty relaxed about it, saying "I never vote, so I thought I could make someone happy with my passes", which is odd since the person who would use them would have to prove their identity and that seems a bit much.
The Mayor of Waalwijk said he wanted the Public Prosecution Service to investigate why this happened (why did Marktplaats go along with this, I wonder) and our guy answered unfazed that he wasn't afraid of the mayor's threats.
(Link: omroepbrabant.nl, Photo by Photo RNW.org, some rights reserved)