iPhone developer course starts in September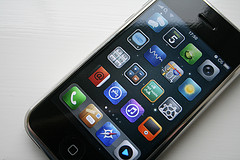 Competence Factory, the job education branch of Randstad-based employment agency Appoint, has started to offer a course in developing Apple iPhone 'apps'.
The training starts in September, and has separate courses for programmers, designers and marketers. It costs 5800 euro to participate.
The course's web page suggests developing iPhone apps may be "the new gold rush," but programmer Adam Martin has some sobering data. The median turnover of an iPhone app developer was between 1000 and 5000 USD in May of this year, although Martin doesn't say whether this is for one app, for one month or year, or for an entire career. Some 10% of those polled said they had no formal training whatsoever, so the numbers for trained app developers may be more uplifting.
(Link: Bright. Photo by William Hook, some rights reserved.)
1 Comment »
[…] this September you could take a course on how to design iPhone applications in the Netherlands, I would suggest you start thinking about what kind of apps you want to unleash […]

Pingback by 24 oranges » Dutch apps for iPhone: useful and useless — January 26, 2011 @ 1:38 pm