Unemployed youth to help other unemployed youth find job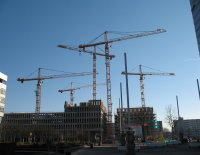 UWV, the Dutch organisation responsible for unemployment benefits, is going to train 200 unemployed and inexperienced young people to become junior job counsellors, Z24 reports (Dutch).
The first batch of 100 university or polytechnic schooled young people will start training right away, so that they can get started on their new job on October 1. The economic crisis is particularly brutal on this segment of the population who often deal with this by staying in school longer (Dutch) in the hopes of waiting out the crisis. Youths can get a student loan for up to 7 years.
No Comments »
No comments yet.