1200 churches expected to be sold in the next ten years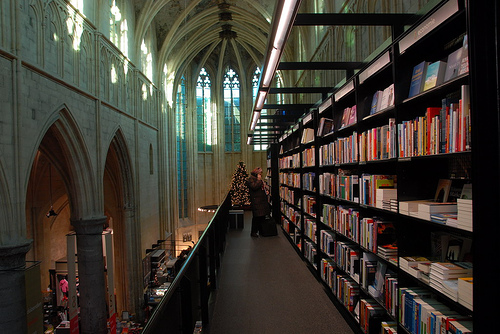 According to Mickey Bosschert, real estate agent for religious property, some 1200 churches in the Netherlands will be sold in the next ten years. Some of these churches will be repurposed, while others will be torn down.
The latter option tends to be resisted by citizens, Bosschert told De Pers, because so many memories of baptisms, weddings and funerals are often attached to a church. Big church buildings in the middle of a city often occupy desirable locations.
Churches go for between 0.2 and 5.5 million euro. A famous, recently repurposed church that drew international attention is the Dominikanenkerk in Maastricht (see photo), which now houses a book store. British news paper The Guardian called it the most beautiful book store in the world. That is quite the accolade, considering it is owned by a chain and the interior has that chain store look.
(Photo by FaceMePLS, some rights reserved)