Youth football club bans non-native children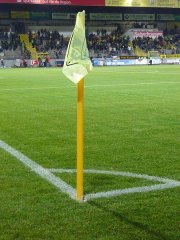 Nijmegen youth football club Quick 1888 (in Dutch, under 'Persbericht') has adopted a discriminatory policy by "putting children of foreign descent who apply for membership on a waiting list, while accepting native Dutch youth members." Apparently, parents of non-native children don't help out with football, don't have cars to drive the kids to games or have to work on Saturdays.
I played women's football for a year in Rotterdam and I had no idea that I would spend so much time at the club outside of practices and games, so I do understand the problem. However, communicating to these parents what is needed is much better than telling them they are doing something wrong, expecting to help out of guilt and then turning around and banning their kids!
Not helping out is considered a sin at Dutch amateur football clubs. Currently, over 80 percent of Quick 1888's juniors are of foreign descent, and it is suffering logistically as a result."
Hmmm. I played against a Dutch club in Rotterdam that was entirely populated with girls whose parents obviously came from Surinam. Sure, we won 2-0, but it wasn't easy and they had tons of people helping them out.
This discriminatory and dare I say racist blanket statement from the football club will not help the relations between the kids or the parents: it will shame the native Dutch, embarrass the non-natives who do help and if this article doesn't help, show how intolerant some Dutch people have truly become.
(Link: rnw.nl, Photo by Wikimedia user Carolus Ludovicus, some rights reserved)
2 Comments »
"Samenleving" in action!! *sigh*

Comment by ratkat — May 12, 2010 @ 8:14 pm