Walking across the Wadden Sea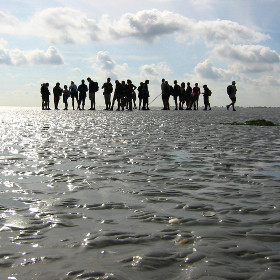 Legend has it that when God created the Groninger, the Groninger said: "Get off my land." And as if to prove a point, Groningers (and Frisians) still walk across dozens of miles of sea each day, as New York Times reporter David Corn attests:
After about an hour, Mr. Kraster comes to a stop. He says he has some good news and some bad news. For the next stretch, the ground will be less muddy — but the water will be higher. He points in the direction we'll be heading. I still see nothing but sky and water before us. He could be leading us anywhere — including into deep water. He takes a step, and the water is close to his waist. The rest of us realize we are standing on a ridge and about to take a plunge.
The activity described here is mudflat hiking, wadlopen in Dutch, and is possible because of the unique properties of the Wadden Sea. At high tide the area is a sea, at low tide it is land—partly—and you can cross from the mainland to the Wadden Islands over some of the muddy watersheds. This is exactly what 30,000 people in the Netherlands do each year. Mudflat walking is also possible across the Wadden Sea portions of Germany and Denmark.
(Photo by nl.wikipedia user Marieke78, some rights reserved.
1 Comment »
Now I want to go and try this out!

Comment by Orangemaster — May 24, 2010 @ 12:13 pm