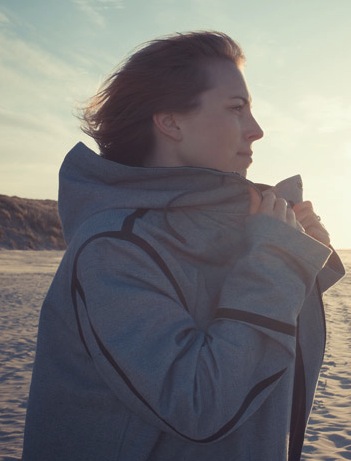 Arnhem-based fashion designer Pauline van Dongen has created a parka for workers of the Wadden Sea World Heritage site, an association that has campaigned to protect the coastal area known for its sea walks.
The 'solar parka', an oversized jacket with a hood, was created for typical Dutch weather conditions and features detachable solar panels on the pockets for charging your electronics.
A thin waterproof and flexible solar panel created by specialist company AltaDevices is attached to one of the front pockets using buttons, and can generate enough energy to fully charge a smartphone after two hours of exposure to sunlight.
The coat's fabric was created using yarn made from recycled denim that was unravelled and rewoven to make it more dense.
Van Dongen has also designed the phototrope shirt for running at night and a cardigan that helps with patient rehabilitation.
(Link and photo: www.dezeen.com)